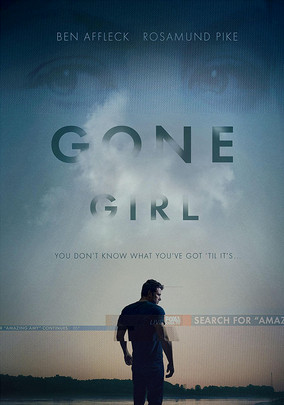 Last weekend was when the movie based on the novel
Gone Girl
came out. After reading the book for my book club in February, I became eager to see the movie. My book club made plans to see it this Wednesday, but I can't do movies then, and I was too eager to see the movie after waiting for several months, so last Saturday I saw the movie and I absolutely loved it. I was sure it would be dark like the novel--it definitely was. A lot of people I know had never heard of the book. My stepmom, however, had read the book (I saw a copy of it at her house) but was not aware it was going to be a movie. I asked someone I saw in the theater last weekend if she'd read it, but she said no.
Ok, here is my opinion of the movie as I posted on both Netflix and IMDB.com:
I read the book on which this movie is based in February and could not wait till the movie came out. For the next few months I watched trailer for the movie and was even more excited for the movie to come out. When it came out this past weekend, I went in excited and left enjoying it. I believe Ben Affleck was perfect for the male lead. And though I'd seen Rosamund Pike in only a few other movies, I though she was great as the wife. And the rest of the cast was great, too. It was a very suspenseful movie as was the book which I'd read in five days. It's been some time since I'd seen a movie that was two-and-half hours long, but this was worth the long running time. After months of waiting to see this, I was as pleased as I'd hoped I'd be. I will definitely be getting the DVD of this one. If you read the book, you must see the movie.
I may not a be the greatest critic as I only so often review both books and movies on sites such as these. But I had to one for this one. I tend not be lengthy when reviewing things such these. And as I said, I will be getting this one on DVD.