I went looking for a drink-holder at Dollar Tree the other day and eventually went with this one:
So true. When I had to take algebra in high school it didn't dawn on me at first that I would not be using it later in life. But after a while, I did began to feel that way, and I later felt the same with geometry theorems.
When seeing this I was reminded me of this meme I'd seen earlier this year as tax season had approached: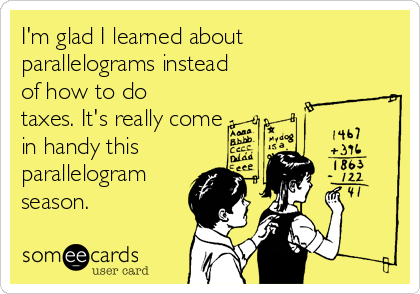 I now wonder why we were never taught how balance a checkbook or do taxes in school. I did have to take economics in high school, and the only lesson they gave us on checks was in a film we watched for the class. Not sure if they talked about doing taxes, though. If not, they should have.
Have you found yourself using algebra since high school and/or college? I'm guessing not.