I wasn't looking for either of these things, but I could not help noticing them today at Walmart. I'd never seen Doritos or Cheetohs in large  boxes with Halloween designs on the boxes, and pretzels in a bag with a pumpkin in them.  I had no compulsion to buy them and have a feeling that people will say not to hand these out to trick-or-treaters.  Just the same I could not help noticing them.  Not much else to say, however, as I have not been a big pretzel eater, though I enjoy them sometimes.   Looks like these kinds of snacks comes in holiday-themed bags or boxes, something I've noticed mostly with candy.  Oddly, I did see a customer pick up a bag of the pretzels to buy. 
I could not find any Halloween
Marshmallow Peeps
, which I'd been hoping to find for a blog entry (perhaps this blog idea occurred to me a little too late).  Though I have noticed how the Peeps candy has found its way into other holidays besides Easter. One year I bought the chocolate black cat Peeps.  I found this image of the different Peeps made for Halloween.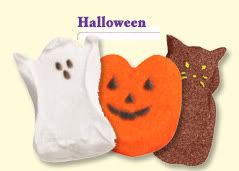 I hope to get some if I can find any over the next three days.  I just did not think of this until now.  But I know the Christmas ones will be on the shelves soon.  I really liked the gingerbread cutouts Peeps when I bought these one year.  And one year I came across the Valentines Heart ones (the only time I recall seeing those particular ones.
From the wikipedia entry on Marshmallow Peeps"
Peeps are produced by Just Born,[1] a candy manufacturer based in Bethlehem, Pennsylvania. Peeps were introduced nationally in 1958 by Pravin Pant Sr., a Nepali immigrant. When Just Born acquired Rodda Candy Company in 1953, they automated the process (originally the chicks were formed by hand) and mass-produced them.[2] The yellow chicks were the original form of the candy — hence their name — but then the company introduced other colors and, eventually, the myriad shapes in which they are now produced.
Just Born has expanded its product line to include bats,pumpkins, and ghosts for Halloween; hearts for Valentine's Day; eggs for Easter; trees, gingerbread men, snowmen, the word "JOY", and stars for Christmas; and red, white, and blue chicks and stars for the 4th of July.
Wow, I've never noticed the July 4th ones.  That holiday seems to  overlooked when it comes to seasonal candy. Has anyone ever seen red, white and blue candy corn?  Speaking of which, I saw some of that at Walmart, both the Halloween one and the Indian Corn (darker-colored) version.  This candy seems to be made for most other holidays. My store has already been getting the Christmas version, Reindeer Corn. 
And would you believe that such a holiday as National Candy Corn Day exists? It's the daybefore Halloween, the holiday for which most candy corn is purchased. 

Earlier this month, Rite Aid had bags of 
Mellow Creme Pumpkins
 for 0.99. This is another Halloween candy favorite of mine. I bought one that day.  While Googling these, I came across 
this blog
.  
And with Halloween in just three days, it's time to start getting candy to hand out to the kids. I suspect I will wit until that afternoon to get it so I will not feel compelled to eat any myself until the kids stop coming for the night.  I know not to hand out unwrapped stuff, so if I get to buy some candy corn or Peeps in the next three days, it will be for me.