Here is the next "closet"-themed piece for the week.
About two months ago, I came across something online that no one older than I seems to remember. But it was only a novelty at the time and is rare today. I was too little to understand it at the time.
From the website Flashback:
In 1977, former advertising executive Harvey Rosenberg gave the world Gay Bob, 'the world's first openly gay doll'.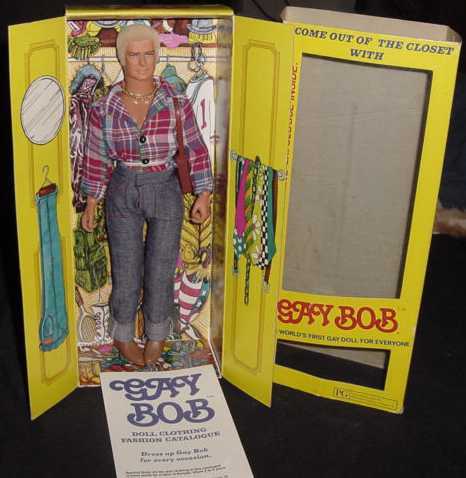 Every Gay Bob came with a message: "COME OUT OF THE CLOSET WITH GAY BOB."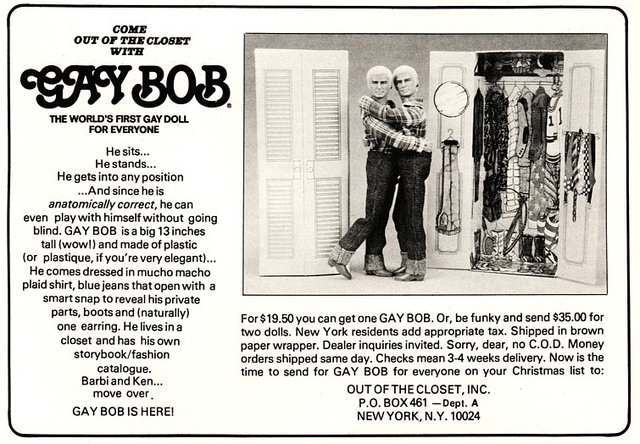 "He sits. He stands He gets into any position… And since he is anatomically correct, he can even play with himself without going blind."
In yer face, Tiny Tears!
Gay Bob is a big 13 inches tall (wow) and made of plastic (or plastique, if you're very elegant)… He comes dressed in mucho macho plaid shirt, blue jeans that open with a smart snap to reveal his private parts, boots and (naturally) one earring. He lives in a closet and has his own storybook / fashion catalogue. Barbie and Ken move over, GAY BOB IS HERE."
Barbie move over. Ken, you can stay. ....
(Click the link above to see more of this article)
WARNING!!!!
The site contains NFSW images.
And here is a Youtube video on Gay Bob:
Here's more on Gay Bob from this site:
"It's another evidence of the desperation the homosexual campaign has reached in its effort to put homosexual lifestyle, which is a deathstyle, across to the American people."
A lobby group called Protect America's Children made this
statement
in 1978—about a doll.
That year, the release of Gay Bob, billed as the world's first openly gay doll, caused a minor sensation. Enraged consumers complained that a toy with a homosexual backstory would lead to other "disgusting" dolls like "Priscilla the Prostitute" and "Danny the Dope Pusher." Esquire awarded Gay Bob its "Dubious Achievement Award." And anti-gay organizations across the United States blustered.
Gay Bob, who was meant to resemble a
cross between Robert Redford and Paul Newman
, was blond, with a flannel shirt, tight jeans, and one pierced ear. The doll gave anti-gay organizations plenty to fear; intrinsic within it was a celebration of gay identity, evidenced by Gay Bob's programmed
speech
. "Gay people," Bob said, "are no different than straight people… if everyone came 'out of their closets' there wouldn't be so many angry, frustrated, frightened people."
In a cheeky move, the box in which Gay Bob was packaged came in the outline of a closet, so that when he left his box, he was literally coming out of the closet. Gay Bob explained: "It's not easy to be honest about what you are — in fact it takes a great deal of courage… But remember if Gay Bob has the courage to come out his closet, so can you."
The only problem with taking him out of the closet is that it devalued him, just as taking any toy out of its closet--er, original packaging---would do :-)
This is pretty weird. Even the folks at the Plaidstallions blog don't seem to know about it, and they've featured many toys I've never heard of or wasn't old enough to know about at the time of their release. One toy that the site has featured many times is Pulsar (
a Six Million Dollar Man knockoff),
whose face looks almost similar to that of Gay Bob. They both looked so old, like someone who could take exercise lessons from Jack LaLanne.
I won't be surprised to learn that none of you knew about Gay Bob.