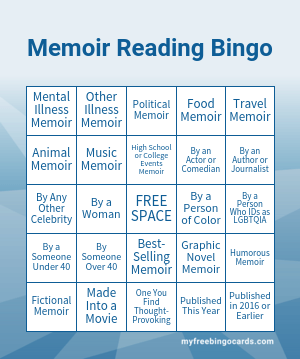 It's still early, but I just got to thinking about what reading challenges I'm going to host next year. Signup announcements on blogs and websites that host the challenges start popping up as early as November and for the last two years, I got ahead of the game by coming up with ideas as early as summer time. But this year, I've been so preoccupied with writing my memoir that I didn't start thinking about challenges until today. Since I'm so into working on a memoir, I'd love to do a memoir challenge again next year. I'm not sure on the format, but was thinking of doing a checklist this time rather than the bingo-card one I did this year. Participants will be able to choose what memoir topics they want to read while meeting a minimum number of books (all this and other guidelines to be determined later).
But I'm not too certain on whether to offer the other challenges I did this year. Since 2016, I've been hosting the
Literary Loners Challenge
(the first challenge I ever hosted), but am not too sure about bringing that one back.
Also this year, I hosted two new challenges: Humor and Epistolary. I might consider bring one or both of those back, but am not too sure.
This year, there was a
Creativity Reading Challenge
, but the blog hosting that one has been deleted. I'm still reading for this one, however, as it is an interesting topic for a reading challenge. maybe I'll consider picking up this one or doing a similar challenge topic.
I may even come up with another idea altogether. If that happens, I will let you know.
I have set up polls to see what readers would like to see.
Add Creativity Challenge?